FOR IMMEDIATE RELEASE
October 13, 2023
"Makers on the Move" Statewide Bus Tour Celebrating Manufacturing Month Makes Final Stop at National Safety Apparel in Chicago
Second annual tour logged nearly 2,000 miles visiting manufacturing facilities, schools and community centers across state to highlight exciting job opportunities in the industry 
CHICAGO – The "Makers on the Move" Statewide Bus Tour made its final stop Friday at National Safety Apparel in Chicago, bringing together industry advocates, educators, economic development organizations and public officials to celebrate Manufacturing Month, which honors manufacturing employees and highlights exciting job opportunities and career pathways available in the industry.
Hosted by the Illinois Manufacturers' Association (IMA) and the Illinois Manufacturing Excellence Center (IMEC), the bus tour began Oct. 6 at The Boeing Company in Mascoutah, which will manufacture the MQ-25 Stingray unmanned aircraft used to refuel fighter jets. From there, the fully-wrapped 56-foot bus traveled nearly 2,000 miles across the state, making more than two dozen stops at manufacturing facilities, schools and community centers throughout Illinois to raise awareness and excitement about the state's dynamic manufacturing sector.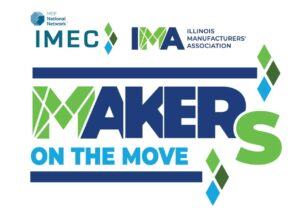 During the final stop at National Safety Apparel, dignitaries including Gov. JB Pritzker toured the company's Chicago production facility, learning how protective clothing and safety apparel is made for the military, first responders and industrial workers. Cook County Board President Toni Preckwinkle joined an earlier stop Friday at UESCO Cranes in Alsip, a family owned and operated business that manufactures overhead cranes and runway systems used to move heavy equipment safely and efficiently in shipyards, warehouses, and workshops. Details about each stop of the "Makers on the Move" bus tour can be found at https://makersonthemove.org.
"We've had an incredible week traversing the state to spotlight the innovative products made in Illinois and spread the word about the fulfilling career opportunities available in the industry," said Mark Denzler, President & CEO of the Illinois Manufacturers' Association. "From building state-of-the-art aircraft, creating award-winning sauces, producing life-saving pharmaceuticals, and making daily necessities like aluminum foil and cleaning products – our state's manufacturing industry makes the world a better place to live every single day. We thank Governor Pritzker, President Preckwinkle and the many lawmakers, economic development officials and educators who joined us at stops along the way to celebrate the past, present and future of Illinois manufacturing."
"Our state's manufacturing sector is the best in the nation and second-to-none," said Governor Pritzker. "From the tech that keeps us connected, to the clothes we wear, to the clean energy advancements ushering in a more sustainable future, Illinois manufacturers play a vital role in every aspect of our day-to-day lives. As we wrap up this year's 'Makers on the Move' Statewide Bus Tour, I was honored to join the IMA and IMEC at National Safety Apparel's new facility—exactly the kind of manufacturing company that we are proud to have reside here in the Land of Lincoln. As one of our state's largest sectors, there's no doubt that when our manufacturing industry flourishes, so do our communities."
Illinois' manufacturing industry generates between $580 billion and $611 billion in economic investment every year – the largest share of any industry to the state's Gross Domestic Product. Manufacturing directly employs 662,298 workers but ultimately supports as many as 1,771,928 jobs, generating up to $150 billion in labor income for Illinois residents annually. In all, it's estimated that the manufacturing industry supports nearly 30 percent of all jobs in Illinois, making it among the state's largest industry sectors.
"In Cook County alone, manufacturing employs 192,500 people, generates $87.5 billion in economic output and accounts for 7.1% of Cook County's gross domestic product," said President Preckwinkle. "There are not many other sectors that play such an important role in the regional economy and we are grateful to the Illinois Manufacturing Association (IMA) and the Illinois Manufacturing Excellence Center (IMEC) for creating the annual Makers on the Move tour to highlight this important work."
Nationally, there are 616,000 open jobs in the manufacturing industry, including tens of thousands of available jobs in Illinois. The IMA and IMEC are dedicated to working with employers, educators, and lawmakers to enact policies that help attract and retain a skilled workforce. These efforts are vital to ensuring Illinois can continue to experience strong economic growth in the coming decade, as more and more baby boomers are expected to exit the job market and companies will seek to fill the resulting knowledge and experience gaps.
"I am truly inspired by the incredible journey from the heart of southern Illinois to the bustling energy of Chicago and everywhere in between," said David Boulay, PhD, President of the Illinois Manufacturing Excellence Center. "It has been an amazing experience witnessing the strength and innovation that defines our state's manufacturing landscape. As we come together for the final day of celebrations at UESCO Cranes and National Safety Apparel alongside esteemed leaders such as Governor Pritzker, President Preckwinkle and a multitude of manufacturing champions, we celebrate not just success, but the enduring spirit that propels Illinois forward as a manufacturing powerhouse."
Recent successes include the creation of two new world-class manufacturing academies, the establishment of an apprenticeship tax credit for manufacturers who train employees, and passage of legislation to remove barriers preventing students from participating in career development opportunities that allow for hands-on experiences on shop floors. IMEC is an official representative of the Manufacturing Extension Partnership National Network in Illinois, a public-private partnership that delivers comprehensive, proven solutions to U.S. manufacturers, fueling growth and advancing U.S. manufacturing. This allows IMEC to be uniquely positioned to help manufacturers address challenges such as workforce development.
"Manufacturers are creative, innovative and adaptable – traits we must all embrace to help foster and grow a strong manufacturing workforce of the future," said Sarah Hartwick, Vice President of Education & Workforce Policy at the Illinois Manufacturers' Association and Executive Director of the IMA Education Foundation, which works with high schools and community colleges across the state to create pathways for students to begin acquiring specific skillsets necessary for careers in the manufacturing industry. "Manufacturers are eager to train employees and help them learn new skills needed to succeed in the industry. No matter your background, there's a manufacturing job that's right for you."
Additional Manufacturing Month celebrations will be held throughout the state, as manufacturers open their doors to the public for facility tours, community colleges host job fairs, and schools connect students with state-of-the-art technology that is transforming the industry. A list of Manufacturing Month events can be found here: https://www.mfgday.com/find-events/
About the Illinois Manufacturers' Association (IMA)
The Illinois Manufacturers' Association is the only statewide association dedicated exclusively to advocating, promoting and strengthening the manufacturing sector in Illinois. The IMA is the oldest and largest state manufacturing trade association in the United States, representing nearly 4,000 companies and facilities. For more information, please visit http://ima-net.org/.
About the Illinois Manufacturing Excellence Center (IMEC)
IMEC is a team of improvement specialists who are dedicated to changing lives and creating a positive impact on Illinois' workforce and economy. With a mission to drive growth through enterprise excellence, they help organizations become more effective and efficient by identifying issues, developing and implementing solutions, and providing the necessary support that will allow them to excel in areas of leadership, strategy, customer engagement, operations, workforce, and measurement and results. In 2021, they assisted over 1,600 companies and helped create or retain over 5,679 jobs, resulting in over $450M aggregate impact to the Illinois economy.  IMEC has seven offices statewide and 48 full-time industry improvement specialists. For more information, visit www.imec.org.
# # #