FOR IMMEDIATE RELEASE
October 6, 2022
Illinois Manufacturers Celebrate Manufacturing Month with Launch of "Makers on the Move" Statewide Bus Tour at The Boeing Company
Second annual tour runs Oct. 6 – Oct. 13, will visit manufacturing facilities, colleges and community centers across state to highlight exciting job opportunities in the industry 
MASCOUTAH – The Illinois Manufacturers' Association (IMA) and the Illinois Manufacturing Excellence Center (IMEC) today launched the second annual "Makers on the Move" statewide bus tour, which will visit manufacturing facilities, educational institutions and community centers across Illinois to celebrate Manufacturing Month and raise awareness about the exciting career opportunities available in the industry.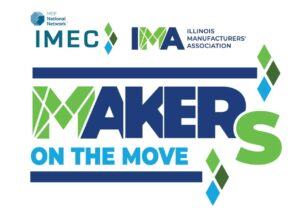 The "Makers on the Move" bus tour kicked off at The Boeing Company in Mascoutah on Friday, which is recognized nationally as Manufacturing Day. A leader in the state's robust aerospace industry, The Boeing Company employs more than 16,000 manufacturing workers in Illinois. Additional stops scheduled for Friday include a visit to the Research Park at Southern Illinois University Carbondale, which helps to start, grow, and sustain innovative and technology-based companies, as well as 17th Street Barbecue in Murphysboro for a ribbon cutting for a production facility to package the company's award-winning sauces and rubs.
A fully-wrapped 56-foot bus will travel to nearly every region of the state over the course of the next week, transporting industry advocates, educators, economic development organizations, public officials and other dignitaries as they spread the word about the importance of manufacturing in Illinois. Several stops will include a virtual reality experience provided by Transfr, which will allow attendees a glimpse of what it would be like to work on today's modern, high-tech manufacturing floors. The public is invited to join in the festivities by attending any of the 22 planned stops. More information is available at https://makersonthemove.org.
"We are excited to launch the 'Makers on the Move' tour at facilities that represent the best of what Illinois manufacturing has to offer," said Mark Denzler, President & CEO of the Illinois Manufacturers' Association. "With tens of thousands of manufacturing jobs available in Illinois, there's no better time to explore a career in manufacturing.
We're excited to celebrate our industry and meet a new generation of leaders who will move our state and nation forward."
Illinois' manufacturing industry generates between $580 billion and $611 billion in economic investment every year – the largest share of any industry to the state's Gross Domestic Product. Manufacturing directly employs 662,298 workers but ultimately supports as many as 1,771,928 jobs, generating up to $150 billion in labor income for Illinois residents annually. In all, it's estimated that the manufacturing industry supports nearly 30 percent of all jobs in Illinois, making it among the state's largest industry sectors.
Nationally, there are 616,000 open jobs in the manufacturing industry, including tens of thousands of available jobs in Illinois. The IMA and IMEC are dedicated to working with employers, educators, and lawmakers to enact policies that help attract and retain a skilled workforce. These efforts are vital to ensuring Illinois can continue to experience strong economic growth in the coming decade, as more and more baby boomers are expected to exit the job market and companies will seek to fill the resulting knowledge and experience gaps.
"In the vibrant landscape of Illinois, manufacturing stands as the pulsating heart of our state, and our skilled workforce forms the bedrock of our competitive advantage. Embarking on this tour across our region, we don't just reminisce; we celebrate the enduring legacy, the dynamic present, and the promising future of manufacturing," said David Boulay, PhD, President of the Illinois Manufacturing Excellence Center. "The Makers on the Move Tour is a poignant acknowledgment of the triumphs, the boundless potential, and the strategic imperatives that will shape a prosperous tomorrow for Illinois manufacturing."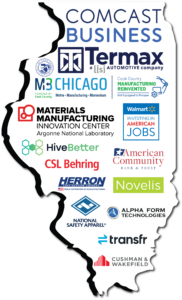 Recent successes include the creation of two new world-class manufacturing academies, the establishment of an apprenticeship tax credit for manufacturers that train employees, and passage of legislation to remove barriers preventing students from participating in career development opportunities that allow for hands-on experiences on shop floors. Additionally, IMEC is uniquely positioned to help manufacturers address challenges including workforce development as an official representative of the Manufacturing Extension Partnership National Network in Illinois, a public-private partnership that delivers comprehensive, proven solutions to U.S. manufacturers, fueling growth and advancing U.S. manufacturing.
"Manufacturers are creative, innovative and adaptable – traits we must all embrace to help foster and grow a strong manufacturing workforce of the future," said Sarah Hartwick, Vice President of Education & Workforce Policy at the Illinois Manufacturers' Association and Executive Director of the IMA Education Foundation, which works with high schools and community colleges across the state to create pathways for students to begin acquiring specific skillsets necessary for careers in the manufacturing industry. "Manufacturers are eager to train employees and help them learn new skills needed to succeed in the industry. No matter your background, there's a manufacturing job that's right for you."
Below is a timeline of events for the "Makers on the Move" bus tour, with additional information available at https://makersonthemove.org:
Friday, October 6
9:30 – 10:30 a.m., The Boeing Company, 8700 State Route 4, Mascoutah, IL
2:30 – 4:00 p.m., Southern Illinois University Research Park, 150 E. Pleasant Hill Road, Carbondale, IL
4:30– 6 p.m., 17th Street Barbecue, 32 N. 17th Street, Murphysboro, IL
Saturday, October 7
11:00 a.m.  – 2:00 p.m., Eastern Illinois University Homecoming Football Game, Grant Avenue & 4th Street, Charleston, IL
Monday, October 9
7:30 – 8:30 a.m.., Mel-O-Cream, 5456 International Parkway, Springfield, IL
10:00 –10:45 a.m., Reynolds Consumer Products, 2226 E. Morton Avenue (East Plant), Jacksonville, IL
1:30 – 2:15 p.m., Peoria Production Solutions, 2029 West Townline Road, Peoria, IL
4:00 – 6:00 p.m., Midwest Ale Works, 537 12th Avenue, East Moline, IL
Tuesday, October 10
8:30 – 10:00 a.m., Parr Instrument, 211 53rd Street, Moline, IL
3:30 – 4:00 p.m., Woodstock Court House, 2200 N. Seminary Avenue, Woodstock, IL
4:30 – 5:00 p.m., AFC Materials, 14 Walter Court, Lake in the Hills, IL
5:30 – 7:30 p.m., Sew Hop'd Brewery, 1 Union Special Plaza, Suite 113, Huntley, IL
Wednesday, October 11
8:30 – 9:30 a.m., PCI Pharma, 4545 Assembly Drive, Rockford, IL
11:00 – 11:30 a.m., Elgin Community College, 1700 Spartan Drive, Elgin, IL
1:00 – 2:00 p.m., Termax, 1155 Rose Road, Lake Zurich, IL
4:30 – 5:30 p.m., Freudenberg, 2188 W. Diehl Road, Aurora, IL
Thursday, October 12
9:00 – 9:30 a.m., Hoffman Transportation, 7300 E Reed Road, Coal City, IL
10:30 – 11:15 a.m., Lion Electric, 3835 Youngs Road, Channahon, IL
1:00 – 2:00 p.m., Demgy, 701 Lee Street, Elk Grove Village, IL
3:00 – 3:30 p.m., Principal Manufacturing, 2800 S 19th Ave, Broadview, IL
4:30 – 6:00 p.m., Home Run Inn, 6221 S. Archer Avenue, Chicago, IL
Friday, October 13
8:30 – 9:30 a.m., UESCO Cranes, 5908 W. 118th Street, Alsip, IL
11:00 a.m. – 12:00 p.m., National Safety Apparel, 4000 S. Racine, Chicago, IL
Additional Manufacturing Month celebrations will be held throughout the state, as manufacturers open their doors to the public for facility tours, community colleges host job fairs, and schools connect students with state-of-the-art technology that is transforming the industry. In addition, the Blue Cross Blue Shield Tower at 300 E. Randolph in Chicago will also be lit up to visually honor the history and importance of manufacturing in Illinois and to observe Manufacturing Day. A list of Manufacturing Month events can be found here: https://www.mfgday.com/find-events/
About the Illinois Manufacturers' Association (IMA)
The Illinois Manufacturers' Association is the only statewide association dedicated exclusively to advocating, promoting and strengthening the manufacturing sector in Illinois. The IMA is the oldest and largest state manufacturing trade association in the United States, representing nearly 4,000 companies and facilities. For more information, please visit http://ima-net.org/.
About the Illinois Manufacturing Excellence Center (IMEC)
IMEC is a team of improvement specialists who are dedicated to changing lives and creating a positive impact on Illinois' workforce and economy. With a mission to drive growth through enterprise excellence, they help organizations become more effective and efficient by identifying issues, developing and implementing solutions, and providing the necessary support that will allow them to excel in areas of leadership, strategy, customer engagement, operations, workforce, and measurement and results. In 2021, they assisted over 1,600 companies and help create or retain over 5,679 jobs, resulting in over $450M aggregate impact to the Illinois economy.  IMEC has seven offices statewide and 48 full-time industry improvement specialists. For more information, visit www.imec.org.
# # #