FOR IMMEDIATE RELEASE
April 1, 2021
IMA Announces New Vice President of Education & Workforce Policy
Sarah Hartwick will also serve as Executive Director of the IMA Education Foundation
SPRINGFIELD – The Illinois Manufacturers' Association is pleased to announce that Sarah Hartwick has been named as the new Vice President of Education & Workforce Policy and will also lead the IMA's Education Foundation. In addition to working with elected officials at the federal, state, and local level to build a strong workforce, the IMA's education efforts include a new partnership with Celebrating High School Innovators, an organization that fosters the next generation of makers and innovators.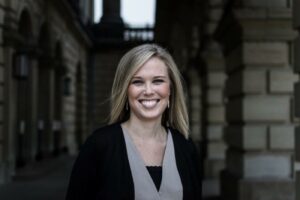 A long-time education advocate, Hartwick most recently served as Executive Director of ED-RED, a suburban public school advocacy organization representing over 80 school districts in Cook and Lake Counties. She previously worked at the Illinois State Board of Education and Advance Illinois, an independent policy and advocacy organization focusing on building a healthy public education system that prepares students to achieve success in college, career, and civic life.
Hartwick is a graduate of Lyons Township High School and earned a bachelor's degree in Political Studies and a Master's of Public Administration from the University of Illinois at Springfield. She resides in Chatham with husband David and four children.
"Sarah is a passionate and committed advocate for our children and education system in Illinois and is well connected to our state's educational institutions and employers," said Mark Denzler, president & CEO of the Illinois Manufacturers' Association. "She will make an immediate impact as we collaborate in communities across the entire state to build a pipeline of qualified workers for our state's manufacturing sector."
Illinois manufacturers employ 555,000 women and men on factory floors today in jobs that pay an average of more than $80,000 in wages and benefits. According to the Bureau of Labor Statistics, there are more than 500,000 open manufacturing jobs across the nation despite an unemployment rate over 6 percent, underlying the importance of manufacturers partnering with education institutions and policy makers to help fill these positions and grow our economy.
"I'm looking forward to the challenge of increasing collaboration between our state's manufacturers and educational institutions, including developing skill standards and expanding apprenticeships and work-based learning opportunities for students," said Hartwick. "We need to work in every community across Illinois to create a robust education system that will positively impact students, returning veterans, dislocated workers, and formerly incarcerated individuals who are seeking good-paying jobs and life-long careers in manufacturing."
Hartwick was selected following a nationwide search and is replacing Jim Nelson who has retired after sixteen years of service to the IMA.
About the Illinois Manufacturers' Association (IMA)
The Illinois Manufacturers' Association is the only statewide association dedicated exclusively to advocating, promoting and strengthening the manufacturing sector in Illinois. The IMA is the oldest and largest state manufacturing trade association in the United States, representing nearly 4,000 companies and facilities.  For more information, please visit http://ima-net.org/.
###