FOR IMMEDIATE RELEASE
February 17, 2021
Voting Begins in Second Annual "Makers Madness" Contest to Name The Coolest Thing Made in Illinois
First Round of Voting Will Determine Top 16 in Bracket-Style Tournament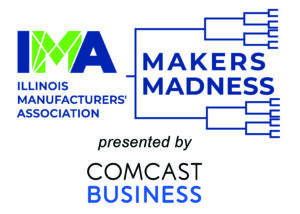 SPRINGFIELD – The initial round of voting is now open for the second annual "Makers Madness" contest hosted by the Illinois Manufacturers' Association, a bracket-style tournament in which voters across the state will decide which product is The Coolest Thing Made in Illinois.
Presented by Comcast Business, the competition shines a light on Illinois' diverse manufacturing sector, which has played a critical role in the state and nation's response to the coronavirus pandemic. Manufacturers are developing life-saving vaccines and treatments, producing needed personal protective equipment, keeping store shelves stocked with important goods and nutritious foods and powering our homes and businesses.
A total of 311 unique products from every corner of the state were nominated for The Coolest Thing Made in Illinois. Among this year's nominees are massive machines, delicious food and beverages, iconic sporting equipment, advanced technology allowing us to see galaxies, innovative medical advancements and numerous products used in the fight against the global pandemic.
Voting throughout the contest will take place at www.makersmadnessil.com, where voters can now choose which products should advance to the Top 16. Voting for this round will take place through 11:59 p.m. on February 28, and voters can vote up to five times per day.
Consecutive rounds of voting will take place each following week, culminating with an awards ceremony on March 24 when The Coolest Thing Made in Illinois will be named.
"The wide variety of products nominated from across Illinois is a testament to the creativity, ingenuity and innovation of our state's manufacturing sector. The men and women working on factory floors drive our economy, and they deserve our recognition and gratitude every day. This contest is about celebrating their achievements," said Mark Denzler, president and CEO of the Illinois Manufacturers' Association. "Manufacturers not only answered our nation's call during the pandemic, producing medical equipment, vaccines and treatments, they are leading our economic recovery by providing good-paying jobs, advancing technologies and investing in our communities. Manufacturers make the world a better place to live every single day."
"Comcast Business is proud to support the Makers Madness contest, because it shines a light on the continuing importance of manufacturing in Illinois and showcases the latest innovations from companies in the state," said Sean McCarthy, Comcast's Regional Vice President of Business Development and Strategic Initiatives. "We appreciate the Illinois Manufacturers' Association for its commitment to supporting, promoting and advancing manufacturing in the state."
Statewide, manufacturing generates more than $304 billion in economic output, contributing 12 percent to the state's Gross Domestic Product – the largest share of any industry in Illinois. Manufacturers employ 556,300 women and men in Illinois at an average salary of $88,691, providing $52 billion in wages and benefits.
Though manufacturing remains an economic powerhouse in Illinois, manufacturers here and across the country are facing the threat of an aging workforce. Over the next decade, it is estimated that 300,000 men and women will leave the industry as baby boomers begin to retire, presenting numerous career opportunities. Nationally, there are 460,000 open manufacturing jobs today.
In 2020, Caterpillar's 797F Large Mining Truck was crowned "The Coolest Thing Made in Illinois" after nearly 300,000 votes.
Timeline of events:

January 27 – February 14: Nominations accepted at www.makersmadnessil.com
February 17 – February 28: Voting on nominations to determine Top 16
March 2 – March 7: First round of voting to determine Top 8
March 9 – March 14: Second round of voting to determine Top 4
March 16 – March 21: Final round of voting
March 24: Winner of The Coolest Thing Made in Illinois Announced
About the Illinois Manufacturers' Association (IMA)
The Illinois Manufacturers' Association is the only statewide association dedicated exclusively to advocating, promoting and strengthening the manufacturing sector in Illinois. The IMA is the oldest and largest state manufacturing trade association in the United States, representing nearly 4,000 companies and facilities. For more information, visit https://ima-net.org/.