FOR IMMEDIATE RELEASE
March 2, 2022
Nominations Open for Bracket-Style Tournament Showcasing Illinois-Made Products
SPRINGFIELD – The diversity and strength of our state's manufacturing industry takes center stage as the Illinois Manufacturers' Association (IMA) launches its third annual "Makers Madness" contest, a bracket-style tournament in which the public will vote on which product earns the 2022 title of The Coolest Thing Made in Illinois.
Presented by Comcast Business, the competition celebrates the incredible work of manufacturers across Illinois, which have long served as the backbone of our state's economy and are helping lead our recovery from the pandemic. Illinois manufacturers produce everything from life-saving vaccines and medical treatments to boundary-breaking electric vehicles and components used for space exploration. Our manufacturers keep store shelves stocked with nutritious food and delectable snacks, as well as create sporting equipment used everywhere from neighborhood fields to professional leagues. They make core structural products from steel, rebar and motors to chemicals and flavorings, and even create high-tech gadgets used for national defense and energy to power our homes and businesses.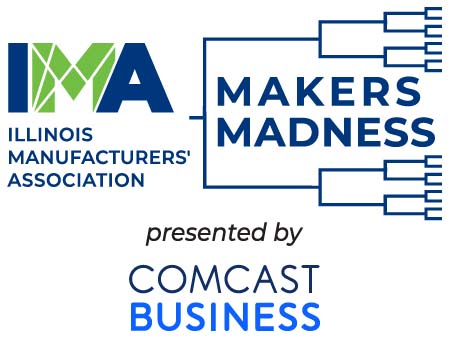 Nominations for The Coolest Thing Made in Illinois are now being accepted at www.makersmadnessil.com, where voting will take place throughout the contest. Any product manufactured in Illinois can be nominated. While qualifying products must be made in Illinois, the manufacturers' headquarters do not need to be located in the state. Nominations will be accepted through 11:59 p.m. on March 20. Voting to narrow the field to the Top 16 products will begin March 22 with consecutive rounds of voting taking place each week. The contest will culminate with an awards ceremony on April 27 when The Coolest Thing Made in Illinois will be named.
"Manufacturing has always played a vital role in Illinois' economy and this contest is a celebration of the innovation and ingenuity that sets our industry apart. It's also a reminder about the importance of investing in American manufacturing as the pandemic created global supply disruptions that could be minimized by ensuring production remains here at home. We also celebrate the amazing women and men who make these great products," said Mark Denzler, President and CEO of the Illinois Manufacturers' Association. "We look forward to a robust and friendly competition and are excited to showcase the many fantastic products made right here in Illinois."
Previous contest winners include the 797F Mining Truck manufactured by Caterpillar, Inc. in Decatur, which is the world's largest mechanical truck, and the Self-Regulating Traffic Signal Heater by Termico Technologies in Elk Grove Village, which uses conductive particles to heat traffic signals so they remain free of ice and snow and traffic can safely navigate our roadways.
"Comcast is proud to support Illinois' manufacturing sector and help bring local innovations to light for the world to see through the Makers Madness contest," said Sean McCarthy, Comcast's Regional Vice President of Business Development and Strategic Initiatives. "It's exciting to watch the role connectivity and technology play in one of our most important economic sectors and know that Comcast helps power one of our state's most historic and dynamic economic engines."
Statewide, manufacturing generates more than $304 billion in economic output, contributing 12 percent to the state's Gross Domestic Product – the largest share of any industry in Illinois. Manufacturers employ 592,200 women and men in Illinois at an average salary of $88,691, providing $52 billion in wages and benefits.
To ensure the state's manufacturing sector remains dynamic and strong, the IMA is working to implement several measures to grow manufacturing in Illinois. One key proposal is the MICRO Act, which would create tax incentives for companies to produce semiconductors and microchips in Illinois. Increasing production of these vital components in Illinois would help ease supply chain issues by ensuring access is not controlled by a handful of oversees providers.
The IMA is also backing legislation that would make permanent and modernize a tax credit that incentivizes manufacturers and other companies to invest in research and development projects in Illinois. This will encourage manufacturers to continue to invest in their communities by launching product studies, researching new technologies and testing revolutionary products right here at home.
In addition, the IMA is partnering with lawmakers and the governor's office to fund a statewide marketing campaign to attract people to manufacturing careers. As workforce shortages continue to plague nearly every manufacturing sector, the marketing campaign will help introduce manufacturing careers to a wider audience.
Timeline of events:
March 2 – March 20: Nominations accepted at www.makersmadnessil.com
March 22 – April 3: Voting on nominations to determine Top 16
April 5 – April 10: First round of voting to determine Top 8
April 12 – April 17: Second round of voting to determine Top 4
April 19 – April 24: Final round of voting
April 27: Winner of The Coolest Thing Made in Illinois announced
About the Illinois Manufacturers' Association (IMA)
The Illinois Manufacturers' Association is the only statewide association dedicated exclusively to advocating, promoting and strengthening the manufacturing sector in Illinois. The IMA is the oldest and largest state manufacturing trade association in the United States, representing nearly 4,000 companies and facilities. For more information, visit https://ima-net.org/.