With the holidays fast approaching, the Illinois Manufacturers' Association would like to offer all our best for a happy, healthy, and prosperous season. Whether you have been naughty or nice, the IMA would like to offer a last-minute list of Made in Illinois ideas for that perfect gift for your family & friends or help with your holiday party.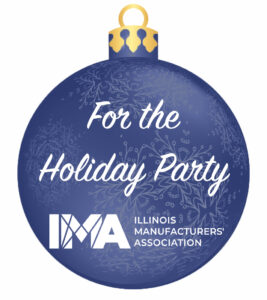 Diageo: Crown Royal, Smirnoff Vodka, Captain Morgan Rum, Gordons Gin, and more
Beer Nuts: peanuts, pecans & other nuts, bar mix, party mix, barware, and apparel
C. Cretors & Company:popcorn machines, popcorn
Mondelez International: Oreos, Philly Cream Cheese, Toblerone chocolate bars, Ritz crackers
Clyde's Donuts: donuts
Ferrara Candy Company: Lemonheads, Redhots, Boston Baked Beans
Ferrero: Nutella, Tic Tacs, Fannie May, Butterfinger, Baby Ruth, Raisinets, Laffy Taffy, and Nestle Crunch
Libman Broom: brooms and cleaning supplies for the holiday party
Nielsen-Massey: vanilla and other flavorings
Solo Cups: cups, plates, and bowls
Mars Wrigley: Dove bars, M&Ms, Skittles, other candies
World's Finest Chocolate: chocolate bars
Prairie Farms: eggnog and peppermint ice cream
Tyson: Hillshire Farms meats
Eli's Cheesecake: cheesecake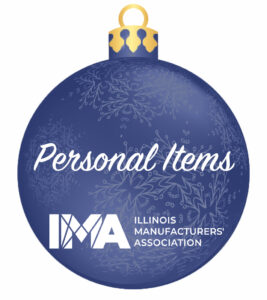 Blistex: lip balm
Herff Jones: class rings, jewelry, yearbooks    
Horween: leather belts, glass cases, luggage
Maui Jim: sunglasses
Wahl Clipper: hair clippers and accessories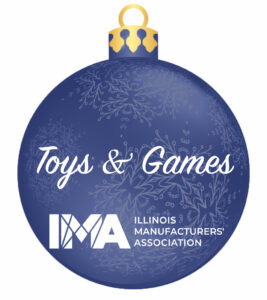 Dinger Bats: baseball bats
Litania Sports Group: track & field equipment, basketball and volleyball equipment
Radio Flyer: wagons, tricycles; scooters
Replogle Globes: globes
Schutt Sports: sports helmets, pads, and equipment
Stern Pinball: pinball machines
Water Sports LLC: water soakers, cooler caddies, saucers, and pool toys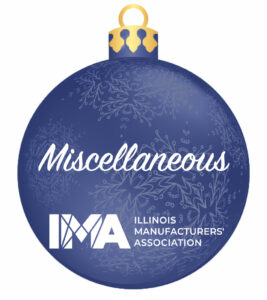 Caterpillar: clothing, footwear, scale models, apparel
Fiat Chrysler: cars & SUVs
Ford Motor Company: cars & SUVs
John Deere: lawnmowers, Mini-Gator, generators, clothes
Pedigree Ovens: Pet treats, dental chews, baked treats and biscuits
Suncast: home storage, outdoor storage, snow tools, home & garden
Weather Tech: floor liners for vehicles, pet items
Happy Holidays!