2020 has been a very challenging and interesting year, especially for manufacturers. We are proud that our members have stepped up during a global pandemic and the resulting economic crisis to provide the medicines, vaccines and therapies, food, supplies, energy, and everything our nation needs to battle the virus and restore our economy. Thank you for all you and your employees are doing every single day.
Even amidst such challenges, with the holidays fast approaching, the Illinois Manufacturers' Association would like to offer all our best for a happy, healthy, and prosperous season. Whether you have been naughty or nice, the IMA would like to offer a last-minute list of Made in Illinois ideas for that perfect gift for your family & friends or help with your holiday party.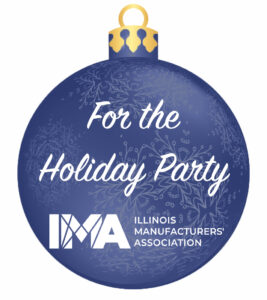 Diageo: Crown Royal, Smirnoff Vodka, Captain Morgan Rum, Gordons Gin, and more
Beer Nuts: peanuts, pecans & other nuts, bar mix, party mix, barware, and apparel
C. Cretors & Company: popcorn machines, popcorn
Clyde's Donuts: donuts
Eli's Cheesecake: cheesecake
Ferrara Candy Company: Lemonheads, Redhots, Boston Baked Beans
Ferrero: Nutella, Tic Tacs, Fannie May, Butterfinger, Baby Ruth, Raisinets, Laffy Taffy, and Nestle Crunch
Fisher Nuts: over roasted nuts
Branding Iron: steaks and burgers
Home Run Inn: frozen pizza
The Kraft Heinz Company: Planters Nuts, Philadelphia Cream Cheese, and other delicious foods
The Libman Company: brooms and cleaning supplies for the holiday party
Mars Wrigley: Dove bars, M&Ms, Skittles, other candies
Mel-O-Cream: donuts
Mondelez International: Oreos, Philly Cream Cheese, Toblerone chocolate bars, Ritz crackers
Nielsen-Massey: vanilla and other flavorings
Rantoul Foods: pork products
Smithfield Foods: deli meats, hot dogs, bacon, ham, and more.
Solo Cups: cups, plates, and bowls
Tyson: Hillshire Farms meats
World's Finest Chocolate: chocolate bars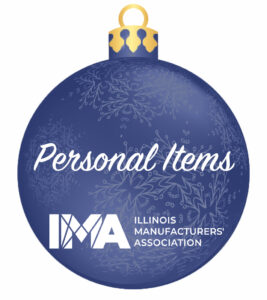 Blistex: lip balm
Brunswick: boats
Bunn-O-Matic: coffee machines
First-Light USA: tactical lighting
Herff Jones: class rings, jewelry, yearbooks    
Horween: leather belts, glass cases, luggage
Kanata Blanket: blankets and towels
National Safety Apparel: apparel
Perma-Bound: books
Silkworm: custom shirts
Vista Outdoor: innovative outdoor products
Wahl Clipper: hair clippers and accessories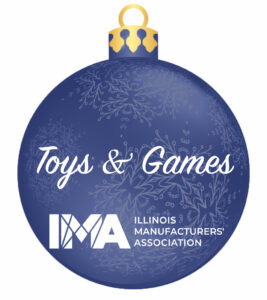 Dinger Bats: baseball bats
Litania Sports Group: track & field equipment, basketball and volleyball equipment
Radio Flyer: wagons, tricycles; scooters
Water Sports LLC: water soakers, cooler caddies, saucers, and pool toys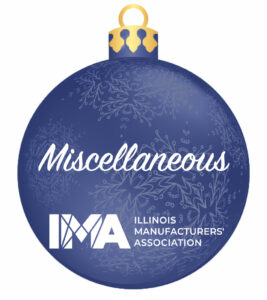 Airthings America: smart radon detectors
American Airlines: airline tickets
Caterpillar: clothing, footwear, scale models, apparel
Continental Tires: tires
Dadant & Company: beekeeping equipment
Ford Motor Company: cars & SUVs
John Deere: lawnmowers, Mini-Gator, generators, clothes
Masterbrand Cabinets: kitchen cabinets
Onken Inc: custom Fire Pit
Pedigree Ovens: Pet treats, dental chews, baked treats and biscuits
Stellantis: cars & SUVs
Suncast: home storage, outdoor storage, snow tools, home & garden
United Airlines: airline tickets
Weber-Stephens Products LLC: BBQ grills
Happy Holidays!