JOIN US FOR THE VIRTUAL IMA ANNUAL LUNCHEON Friday, December 4, 2020 12:00 P.M. to 2:00 P.M.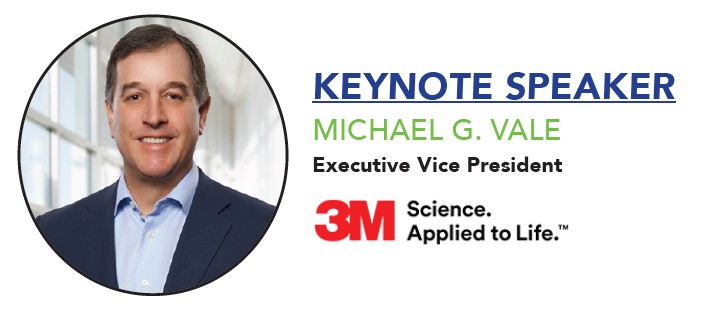 Mike Vale leads 3M's Safety & Industrial Business Group which includes personal safety, adhesives and tapes, abrasives, closure and masking systems, electrical markets, automotive aftermarket, and roofing granulars. Mike led the 3M team's effort to produce and distribute personal protective equipment (PPE) during the global pandemic including N95 masks. Previous pandemics including H1N1 and Ebola led 3M to develop a "surge capacity" to meet rapid increases in demand which includes the production of 1 billion masks by the end of the year.
Mike was most recently head of 3M's Health Care Business Group, and prior to that led the company's Consumer Business Group. Over the years, his career with 3M has sent him abroad four times for varied roles, including research chemist, manufacturing director and general manager.
"A decades-long career at 3M can span a diverse range of businesses, market segments and geographies," Mike says. "I've been fortunate enough to see this company from many, many angles—and 3M is impressive no matter where you are in the world."
SCHEDULE OF EVENTS
Breakout Sessions
Tuesday, Dec 1, 10:00 – 11:30 A.M.
2020 and Beyond: An Economic Forecast
Presented by BMO Wealth Management
Wednesday, December 2, 10:00 a.m. – Noon
Diversity & Inclusion in the Manufacturing Sector
Panel discussion featuring industry leaders
Thursday, December 3, 10:00 a.m. – Noon
Cybersecurity in a Remote World
Presented by Bank of America
Thursday December 3, 4:00 p.m. Happy Hour
New Member Reception sponsored by Leaders Bank
New this year – a networking event for new members to meet Board and Staff! Join us for this fun way to get to know the IMA and really enjoy the Annual Luncheon event!
Annual Luncheon
Friday, December 4: 12:00 P.M. to 2:00 P.M.
IMA Member Milestone Anniversary Awards
The IMA will recognize companies celebrating milestone anniversaries – 25, 50, 75 and 100 years – as valued IMA members at the 2020 Annual Luncheon.
$49 Individual Ticket
Sponsorships Available
Cancellations must be received by Wednesday, December 2, 2020.
Refunds will not be made after Wednesday, December 2, 2020.
Register
Thank you to the following sponsors for their generous support of the 2020 IMA Annual Luncheon.