FOR IMMEDIATE RELEASE
March 10, 2020
Voters Narrow Field to Top 16 Coolest Products Made in Illinois
"Makers Madness" contest lets public decide the Coolest Thing Made in Illinois
SPRINGFIELD – With nearly 100,000 votes cast, the field of contenders has been narrowed to the Top 16 as the inaugural "Makers Madness" contest to determine the Coolest Thing Made in Illinois continues. Hosted by the Illinois Manufacturers' Association (IMA), the bracket-style tournament showcases the many amazing products made by companies across Illinois along with the range of career opportunities available in the industry.
Over the course of three weeks, voters whittled the field down to the Top 16 products from about 260 unique products that were initially nominated. The top four seeds are the Ford Mustang headlight produced by North American Lighting in Paris; the Functional Hand made by Thera-Solutions, LLC. in Elmhurst; MasterPrint from Ingersoll Machine Tools in Rockford; and the Sloan Flushometer made by Sloan Valve Company in Franklin Park. Individuals from every corner of Illinois and across the nation cast a total of 97,252 votes in the first round.
"Manufacturing makes the world a better place to live every single day. These 16 products represent some of the very best Illinois manufacturing has to offer, demonstrating the diversity, influence and strength of the industry, which contributes more than $304 billion to our state's economy every year," said Mark Denzler, president and CEO of the Illinois Manufacturers' Association. "With nearly 100,000 votes cast in the first round of voting, it's clear that manufacturing has a major impact on our lives. Every nominee deserves our recognition and heartfelt appreciation for their positive impact on Illinois."
The Top 16 will now face off in a second round of voting to further narrow the competition, which will culminate in an awards ceremony at the Governor's Mansion on April 1 when the Coolest Thing Made in Illinois will be named. Voting is now open at www.makersmadnessil.com and will run through March 15. Voters may cast one vote per day in each head to head contest. Votes are reset at the beginning of each new round. The Top 16 matchups are as follows: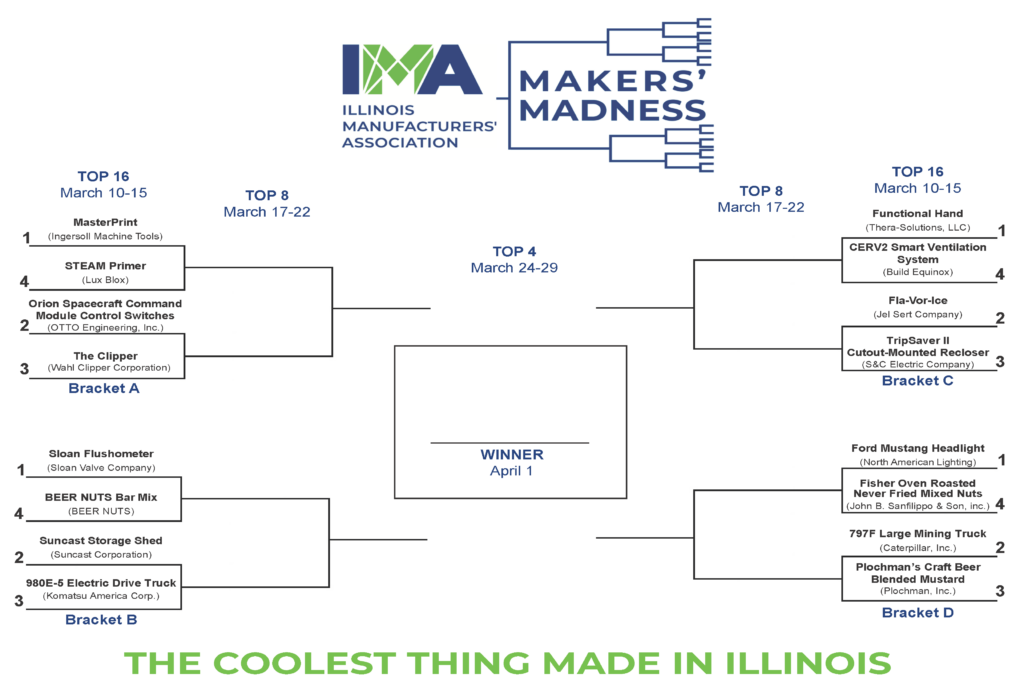 Bracket A:
MasterPrint (Ingersoll Machine Tools, Rockford) v. STEAM Primer (Lux Blox, Galesburg)
Orion Spacecraft Command Module Control Switches (Otto Engineering Inc., Carpentersville) v. The Clipper (Wahl Clipper Corporation, Sterling)
Bracket B:
Sloan Flushometer (Sloan Valve Company, Franklin Park) v. (4) BEER NUTS Bar Mix (BEER NUTS, Bloomington)
Suncast Storage Shed (Suncast Corporation, Batavia) v. (3) Komatsu 980E-5 Electric Drive Truck (Komatsu America Corp., Peoria)
Bracket C:
Functional Hand (Thera-Solutions, LLC., Elmhurst) v. (4) CERV2 Smart Ventilation System (Build Equinox, Urbana)
Fla-Vor-Ice (Jel Sert Company, West Chicago) v. (3) Tripsaver II Cutout-Mounted Recloser (S&C Electric Company, Chicago)
Bracket D:
Ford Mustang Headlight (North American Lighting, Paris) v. (4) Fisher Oven Roasted Never Fried Mixed Nuts (John B. Sanfilippo & Son Inc., Elgin)
Caterpillar 797F Large Mining Truck (Caterpillar Inc., Decatur) v. (3) Plochman's Craft Beer Blended Mustard (Plochman Inc., Manteno)
Statewide, manufacturing generates more than $304 billion in economic output, contributing 12 percent to the state's Gross Domestic Product – the largest share of any industry in Illinois. However, the industry is facing a worker shortage and skills gap as 300,000 baby boomers are set to retire in the coming years. The IMA worked in partnership with Gov. JB Pritzker and lawmakers last year to extend the Research & Development tax credit and establish a new apprenticeship tax credit, which will help manufacturers build a pipeline of new workers.
Timeline of events:     February 4 – 24: Nominations accepted at www.makersmadnessil.com
February 26 – March 8: Voting on nominations to determine Top 16
March 10 – 15: First round of contests to determine Top 8
March 17 – March 22: Second round of contests to determine Top 4
March 24 – March 29: Final round of voting
April 1: Award ceremony to name Coolest Thing Made in Illinois
About the Illinois Manufacturers' Association (IMA)
The Illinois Manufacturers' Association is the only statewide association dedicated exclusively to advocating, promoting and strengthening the manufacturing sector in Illinois. The IMA is the oldest and largest state manufacturing trade association in the United States, representing nearly 4,000 companies and facilities. For more information, visit https://ima-net.org/.
###