FOR IMMEDIATE RELEASE
March 29, 2023
 Manufactured by Ingersoll Machine Tools in Rockford, the 3D Printed Polymer Structure is Designed to House Humans on Moon
SPRINGFIELD – Chosen by voters from an initial field of nearly 250 entries, the Rosenberg Moon Habitat made by Ingersoll Machine Tools in Rockford has been crowned the winner of the 2023 "Makers Madness" contest, earning the title of The Coolest Thing Made in Illinois.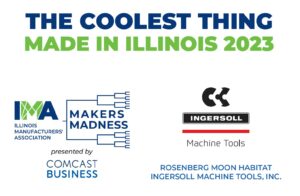 Hosted by the Illinois Manufacturers' Association and sponsored by Comcast Business, the bracket-style competition celebrates the incredible work of manufacturers across Illinois. Manufacturers have long served as the backbone of our state's economy and produce everything from nutritious food and snacks to life-saving vaccines and medical treatments. Manufacturers also make electric vehicles, sporting equipment and structural products like steel, rebar and motors, as well as chemicals, high-tech gadgets used for national defense, and energy to power homes and businesses. A recent study found the total economic impact of manufacturing in Illinois is estimated to be between $580 billion and $611 billion every year – the largest share of any industry to the state's Gross Domestic Product.
With more than 300,000 votes cast throughout the eight-week competition, the Rosenberg Moon Habitat was awarded the title of The Coolest Thing Made in Illinois by Gov. JB Pritzker on Wednesday during a ceremony at the Governor's Mansion in Springfield. Manufactured by Ingersoll Machine Tools in Rockford in collaboration with the Institut auf dem Rosenberg of Switzerland, the habitat is a 3D printed polymer structure designed to house humans on the moon. Built to house a crew of two people, the habitat is the world's tallest single-piece 3D printed polymer structure, with a height of 23 feet but a thickness of only 5 millimeters.
"Congratulations to the Rosenberg Moon Habitat made by Ingersoll Machine Tools for being named the 2023 Coolest Thing Made in Illinois. The habitat represents the very best of our state's manufacturing industry, where creativity and determination turn dreams into reality— including living on the moon," said Mark Denzler, President and CEO of the Illinois Manufacturers' Association. "We are proud of the wide variety of products featured throughout this year's competition, and hope this contest shines a light on the important work taking place on factory floors across Illinois every day."
"Illinois is a state built around innovation— from the Ferris Wheel to the dishwasher to the zipper. The best of that legacy continues to shine through with Makers Madness and the Rosenberg Moon Habitat by Ingersoll Machine Tools," said Governor JB Pritzker. "This team quite literally reached for the stars and imagined a future of space travel and habitation that inspires us all. To them and to all the participants, congratulations, and thank you for all you do to make Illinois a hub of innovation."
"Ingersoll is humbled by this recognition and proud to be in the company of these amazing manufacturing organizations. The Rosenberg Space Habitat is a current concept for humankinds first lunar colony and was printed on the large, Ingersoll Master Print 3X platform. Our mission of advancing the possibilities of manufacturing and human exploration is a challenge we readily accept," said Jeff Ahrstrom, CEO of Ingersoll Machine Tools. "Our 131-year history in Rockford demonstrates that the manufacturing challenges of today are the standards of tomorrow; Ingersoll will be there to meet those challenges and move American manufacturing forward. Thank you to our 200+ person team of machine tool professionals – you conceive, develop, and realize the challenging solutions manufacturers demand in space, air, land and sea. The future of Illinois manufacturing is bright and the possibilities for Illinois manufacturers even brighter."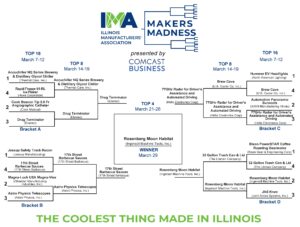 Other finalists for the title included the Drug Terminator manufactured by Elastec in Carmi, a portable drug incinerator designed to help healthcare officials and law enforcement safely destroy prescription drugs or confiscated narcotics; 17th Street Barbecue Sauces produced by 17th Street Barbecue in Murphysboro, which come in various flavors and are made for use on ribs, chicken pulled pork and much more; and the 77GHz Radar for Driver's Assistance and Automated Driving made by Hella Electronics Corp in Flora, a compact sensor to assist drivers and improve road safety by giving drivers early warning of dangerous situations.
"Comcast Business congratulates the Rosenberg Moon Habitat for being named The Coolest Thing Made in Illinois 2023. This year's contest was out of this world," said Sean McCarthy, Comcast's Regional Vice President of Business Development and Strategic Initiatives. "It was a star-studded push to the end, and we congratulate every maker of all the awesome products manufactured here in Illinois that made it to the finals. You've made the State of Illinois proud today."
To ensure the state's manufacturing sector remains strong, the IMA is working to pass several measures this legislative session including reforming the state's biometric information privacy law, modernizing and making permanent Illinois' Research & Development Tax Credit, creating further workforce development opportunities and providing tax incentives to spur additional Illinois manufacturing.
Previous contest winners include Rivian's all-electric R1T truck made in Normal, the first all-electric truck in production featuring four motors, with one powering each wheel; the Self-Regulating Traffic Signal Heater by Termico Technologies in Elk Grove Village, which uses conductive particles to heat traffic signals so they remain free of ice and snow and traffic can safely navigate our roadways; and the 797F Mining Truck manufactured by Caterpillar, Inc. in Decatur, the world's largest mechanical truck. Additional information about the contest can be found at www.makersmadnessil.com.
Timeline of events:
February 2 – February 19: Nominations accepted at www.makersmadnessil.com
February 21 – March 5: Voting on nominations to determine Top 16
March 7 – March 12: First round of voting to determine Top 8
March 14 – March 19: Second round of voting to determine Top 4
March 21 – March 26: Final round of voting
March 29: Winner of The Coolest Thing Made in Illinois announced
About the Illinois Manufacturers' Association (IMA)
The Illinois Manufacturers' Association is the only statewide association dedicated exclusively to advocating, promoting and strengthening the manufacturing sector in Illinois. The IMA is the oldest and largest state manufacturing trade association in the United States, representing nearly 4,000 companies and facilities. For more information, visit https://ima-net.org/.
###
Also Read: "Makers Madness" Contest Enters Final Round