FOR IMMEDIATE RELEASE
February 4, 2020
Illinois Manufacturers' Association Launches "Makers Madness" Contest to Determine the Coolest Thing Made in Illinois
Nominations Now Open for Bracket-Style Tournament to Showcase Illinois Products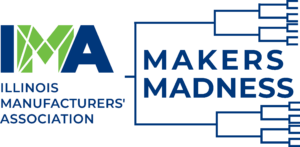 SPRINGFIELD – The Illinois Manufacturers' Association (IMA) launched the first annual "Makers Madness" contest, a bracket-style tournament in which voters will decide what product is the Coolest Thing Made in Illinois.
The competition is designed to highlight the many different products manufactured in Illinois, ranging from food products and furniture to automobiles and components for the aerospace industry. Statewide, manufacturing generates more than $304 billion in economic output, contributing 12 percent to the state's Gross Domestic Product – the largest share of any industry in Illinois.
Nominations are now being accepted at www.makersmadnessil.com, where all voting will take place. Voting to narrow the field to the Top 16 products will begin on February 26. Weekly matchups will follow, culminating in an awards ceremony at the Governor's Mansion on April 1, when the Coolest Thing Made in Illinois will be named.
"From combines and bulldozers to American flags and macaroni and cheese, Illinois manufacturers make some of the most iconic products in the nation. Manufacturers make the world a better place every single day by creating products that help feed the world, save lives, and explore planets beyond our own," said Mark Denzler, president and CEO of the Illinois Manufacturers' Association. "This contest is designed to not only showcase the many amazing things made in Illinois but to also highlight the great careers available in manufacturing, ranging from product designers and robotics specialists to cyber security experts and human resources professionals."
Manufacturers employ 592,200 women and men in Illinois at an average salary of $88,691, providing $52 billion in wages and benefits. However, the industry is facing a worker shortage and skills gap as 300,000 baby boomers are set to retire in the coming years. The IMA worked in partnership with the Governor and lawmakers last year to extend the Research & Development tax credit and establish a new apprenticeship tax credit, which will allow manufacturers to jump-start their efforts to build a pipeline of workers to help fill the next generation of manufacturing jobs.
Timeline of events:
February 4 – 24: Nominations accepted at www.makersmadnessil.com
February 26 – March 8: Voting on nominations to determine Top 16
March 10 – 15: First round of contests to determine Top 8
March 17 – March 22: Second round of contests to determine Top 4
March 24 – March 29: Final round of voting
April 1: Award ceremony to name Coolest Thing Made in Illinois
About the Illinois Manufacturers' Association (IMA)
The Illinois Manufacturers' Association is the only statewide association dedicated exclusively to advocating, promoting and strengthening the manufacturing sector in Illinois. The IMA is the oldest and largest state manufacturing trade association in the United States, representing nearly 4,000 companies and facilities. For more information, visit https://ima-net.org/.