From Illinois Policy: The Land of Lincoln's unfriendly climate for manufacturers has weakened Illinois cities, discouraged investment and made the state uncompetitive in the region.
Peoria, Ill., became a manufacturing powerhouse centered around Caterpillar Inc., one of America's great industrial companies. But state government in Illinois has done much to weaken cities like Peoria by making them unattractive for new production investments, whether from Caterpillar or other companies. And that means state government is a major impediment to creating jobs middle-class workers need to support their families. Peoria is a case in point.
In the early 1990s, nearly 1 in 4 jobs in Peoria was in manufacturing. Today, it's 1 in 8. Even though Caterpillar still retains its Peoria headquarters, the company has not been concentrating new production jobs in the area. Illinois has done a lot to drive away new CAT investments in production facilities and jobs while doing very little to cultivate the friendly business environment manufacturers look for when they consider where to create their next facility. As a result of changes in the global economy and Illinois' unattractive business climate, Peoria now sits at its lowest count of manufacturing jobs on record dating back to 1990, worse even than in the depths of the Great Recession.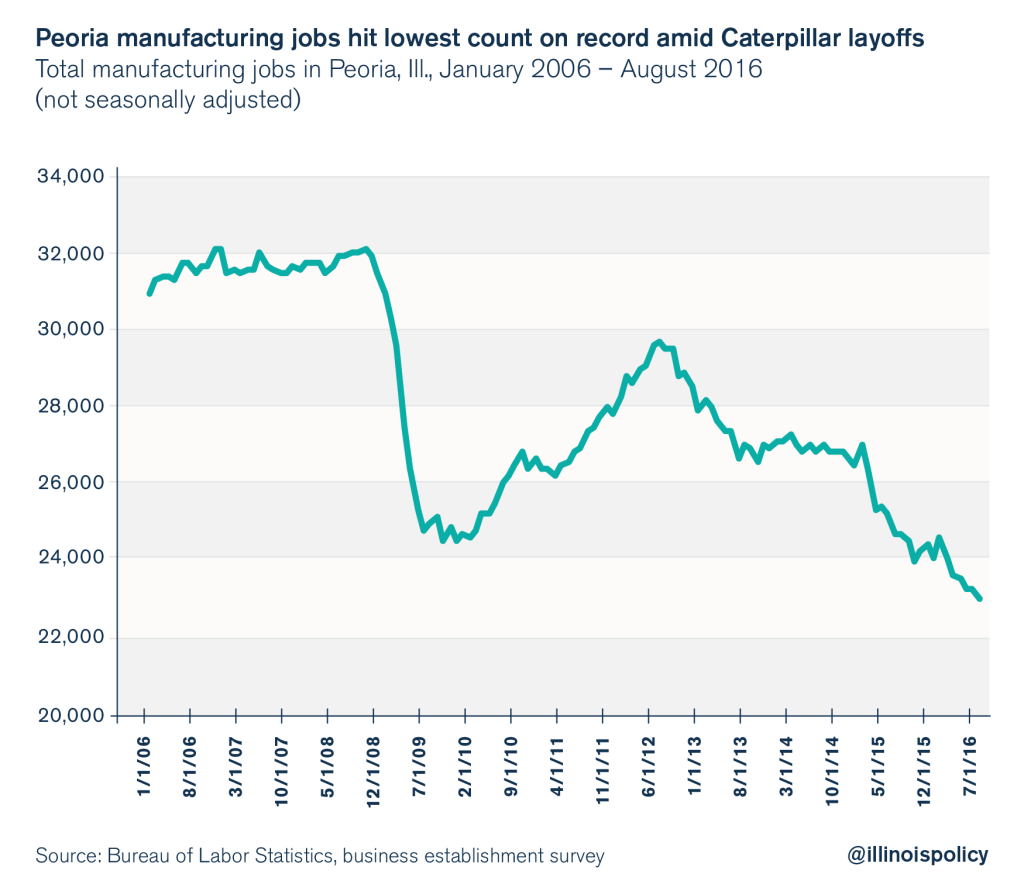 The weakening of Peoria's manufacturing sector has also affected the greater economic community. The city's overall labor force is continuously shrinking, and the labor force as of July 2016 is actually 21,000 people smaller than it was in July 2009. This is a stunning 10 percent contraction in the city's labor force over the Great Recession era.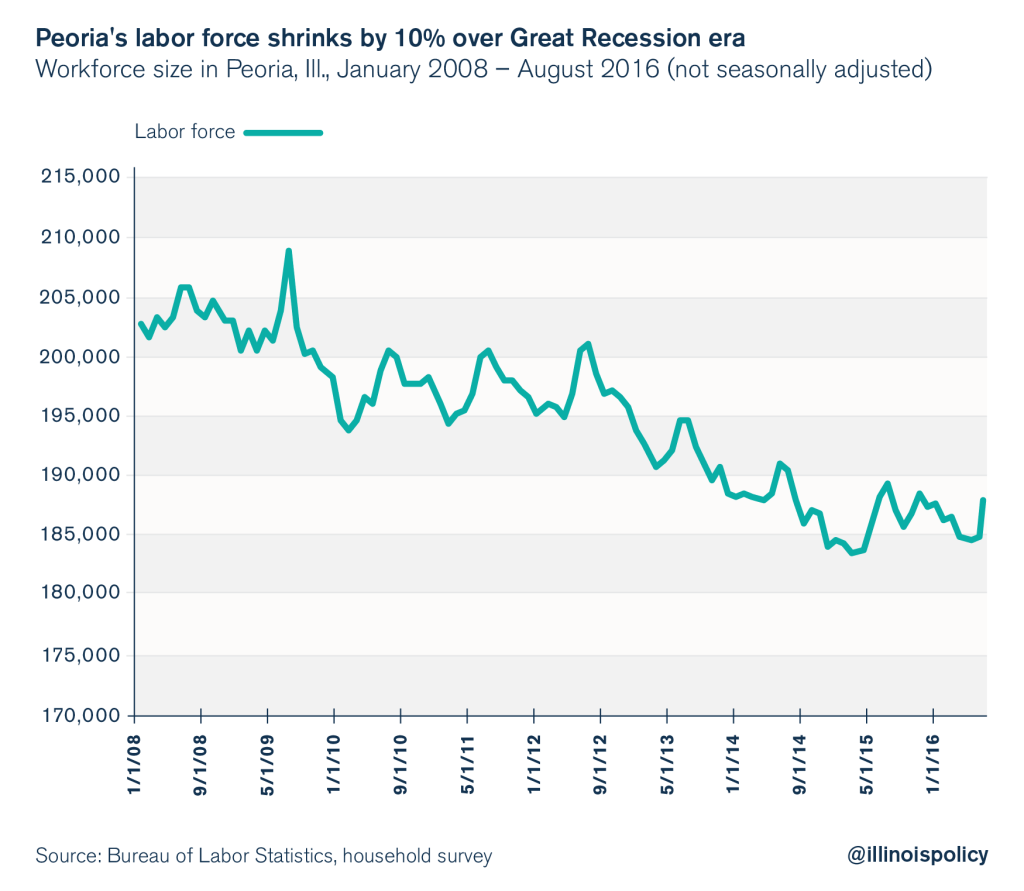 Peoria's woes echo Illinois' woes in general. The state's labor force has contracted by 143,000 since before the Great Recession, enough for a 2 percent workforce decline for the state, measured from its pre-recession peak to the most recent month. By contrast, neighboring Indiana's workforce is up by 141,000 since the Hoosier State's pre-recession peak. And neighboring states Wisconsin, Iowa and Missouri all have larger labor forces today than they had in their peak months before the Great Recession struck.
In other words, the state of Illinois has been an outlier for poor jobs performance compared with neighboring states. And Peoria has had it even worse. Peoria's labor force has contracted 10 percent since its pre-recession peak, compared with a 2 percent contraction for the state generally. And the River City currently has 7 percent fewer total non-farm payroll jobs today than it had in its pre-recession peak, compared with a small 0.3 percent gain for the state as a whole over its recession timeline.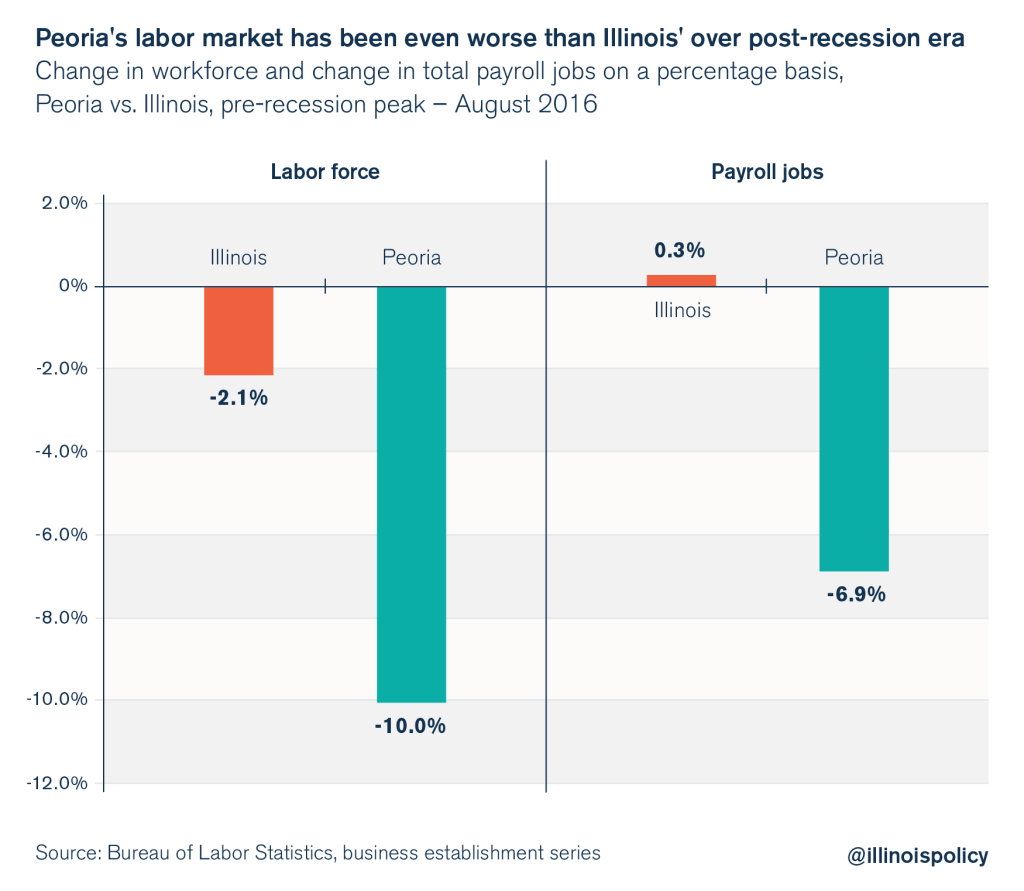 One might ask: What does Caterpillar have to say on the matter? To be sure, global construction growth has been slow, which weakens demand for the construction equipment CAT manufactures. And low global commodity prices have reduced demand for CAT's commodity extraction machinery. As a result of these global headwinds, CAT has been making significant job cuts.
However, Illinois-specific problems also exist, which CAT CEO Doug Oberhelman specifically addressed in a letter to Springfield's State Journal-Register more than four years ago. Oberhelman's letter explained that even though he loved the state, his company has not invested in new Illinois facilities for decades because of unfriendly state policies. He also warned that without substantial tax and regulatory policy changes, the state would continue to suffer on the manufacturing jobs front.
Oberhelman's warning was published February 2012. Since that date, Illinois is the only state in the region to lose manufacturing jobs, dropping 11,000 jobs in the same time period when Indiana gained nearly 40,000 manufacturing jobs and Michigan nearly 75,000.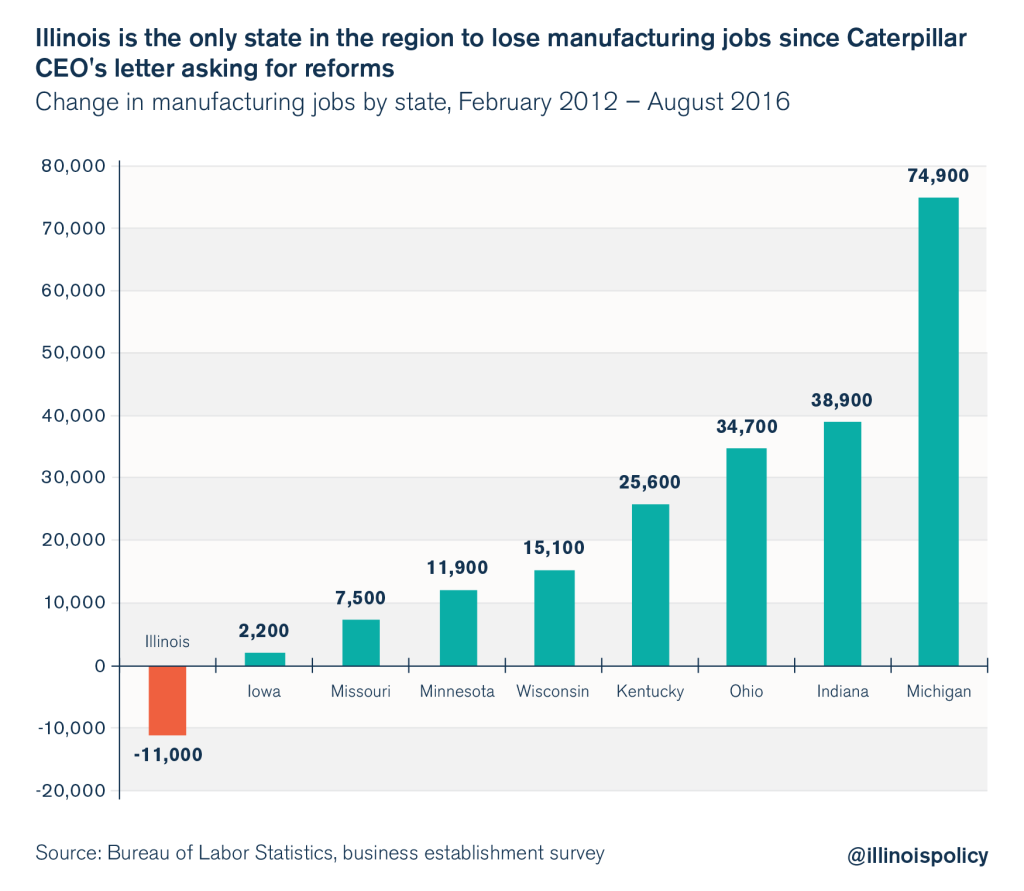 Recent statements from Greg Baise, the CEO of the Illinois Manufacturers' Association, reinforced Oberhelman's concerns. Baise has described how state government is driving business out of Illinois, and in his Sept. 27 letter to The Springfield State Journal-Register, Baise laid out a five-point "Middle Class Manufacturing Agenda," which largely overlaps with Illinois Policy's own policy agenda on the topic. The IMA's agenda includes:
Spending reform and a balanced budget to put Illinois' fiscal house in order, including state constitutional pension reform
Regulatory reform to workers' compensation
A broadened sales tax to include services
Overhaul property taxes, especially Cook County's property tax classification system, which disproportionately puts the property tax burden on industrial properties
Closing the skills gap with more training programs in high schools to create a pipeline of manufacturing talent
Illinois needs to be ready when global economic trends again favor manufacturers, just like Indiana was ready after the Great Recession. The moral failure of politicians, who idly watch as jobs leave the state, has to stop on a bipartisan basis. And at long last, policies need to be put in place so Peoria, Rockford, Decatur and Aurora can be in line for the next new investments in manufacturing facilities.