Constellation is an IMA Member
Businesses, including commercial real estate, are integrating environmental, social, and governance (ESG) standards into business decisions to attract environmentally and socially-conscious investors. Environmental criteria within ESG standards reflect how a company performs as a steward of nature, according to Investopedia.com.1
"ESG standards are especially relevant to real estate since it is responsible for nearly 71% of U.S. electricity consumption, 39% of carbon emissions, 14% of potable water usage and 40% of raw materials usage…," according to sustainability metrics platform Measurabl.2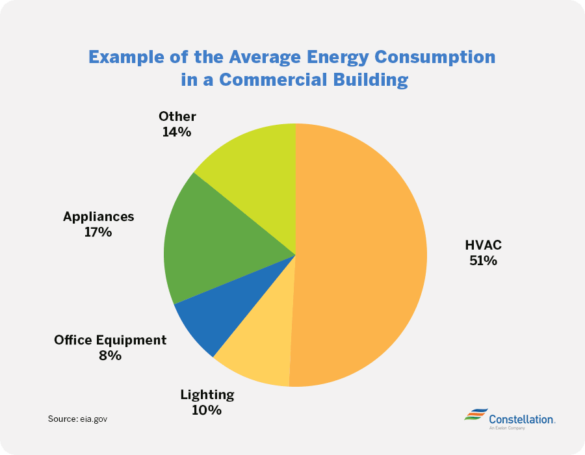 Sustainability Yields Value
"ESG has become a critical point of differentiation and competitive advantage for real estate owners who can use it to gain preferred access to capital markets, such as lending," explains sustainability metric platform Measurabl in a press release.2
A Morgan Stanley survey found that among individual investors, "75% of investors are interested in sustainable investing" and "71% of investors believe companies with leading sustainability practices may be better long-term investments."3
In addition to investors, sustainable practices into one's business model can attract customers (tenants). A recent survey published by renewable energy company Enel Green Power found that 85% of Americans would consider a sustainable product when making a significant purchase. Additionally, the survey found that more than 75% of Americans found the following sustainable business practices to have either some or a great deal of an impact on addressing climate change: widespread adoption of renewable energy sources, reducing waste, reducing energy use in general and water conservation.4
Making Sustainable Improvements
Businesses aiming to demonstrate environmental consciousness can focus on the following criteria to meet the environmental component of ESG criteria (not an exhaustive list):5
Carbon Emissions Impact
Water Use
Pollution
Opportunities in Green Building
Opportunities in Renewable Energy
Businesses can start making progress towards sustainability goals by reducing energy consumption through energy efficiency upgrades. Business can also decarbonize their energy by deploying renewable energy, carbon free energy products and technology to optimize their carbon footprint. Example of these might include:
HVAC upgrades
Building automation
Energy-efficient lighting systems
Water and sewer conservation
The use of renewable energy such as solar power
Renewable and carbon-free energy products
Constellation's Efficiency Made Easy (EME) program can identify and implement efficiency measures that may help you reduce energy costs, manage usage and meet your sustainability goals. Plus, EME requires no upfront capital so you can preserve your budget for other business priorities.
Investing in a Sustainability Measurement Platform
The first step toward integrating ESG standards is the ability to measure your business' sustainability, which is fundamental for being able to understand the existing baseline of metrics and subsequently monitor the impact of sustainability measures on your business's bottom line and therefore to the environment. As a result, more companies are electing to invest in a metrics program.
In January 2019, Constellation Technology Ventures completed an investment in Measurabl, which is a cloud-based software that collects data, creates investment-grade sustainability reports and helps you identify improvement opportunities. ESG data is used to exceed tenant demand for sustainable living, comply with governmental regulations and to access capital markets.
Corporations, many of which derive most of their environmental impacts from leased or owned real estate, are finding ESG essential to their brand, employee attraction and retention programs, in addition to their bottom line.
Learn more about energy strategies for commercial real estate on our website.
References
To view the original article, click here.