by Scott Rogers
Simple Machines Marketing is an IMA B2B Partner
If your business is interested in selling on Amazon, you might be a little confused about where to get started.
There are two different ways to sell products on Amazon: as a third-party seller who handles the fulfillment of your products yourself, or as a vendor who sells your products directly to Amazon, who then sells your products for you.
Let's break down the differences between the two, take a look at which might be right for your business and analyze how these two options may change in the near future.
Becoming an Amazon Seller
Essentially, anyone can become a seller on Amazon. All you have to do is register an account with Amazon and then build out your inventory and company profile via the Seller Central portal.
There are two different subscription types for getting started as a seller — the "Individual" and the "Professional" plan. This chart provided by Amazon provides a glimpse of the differences between the two plans: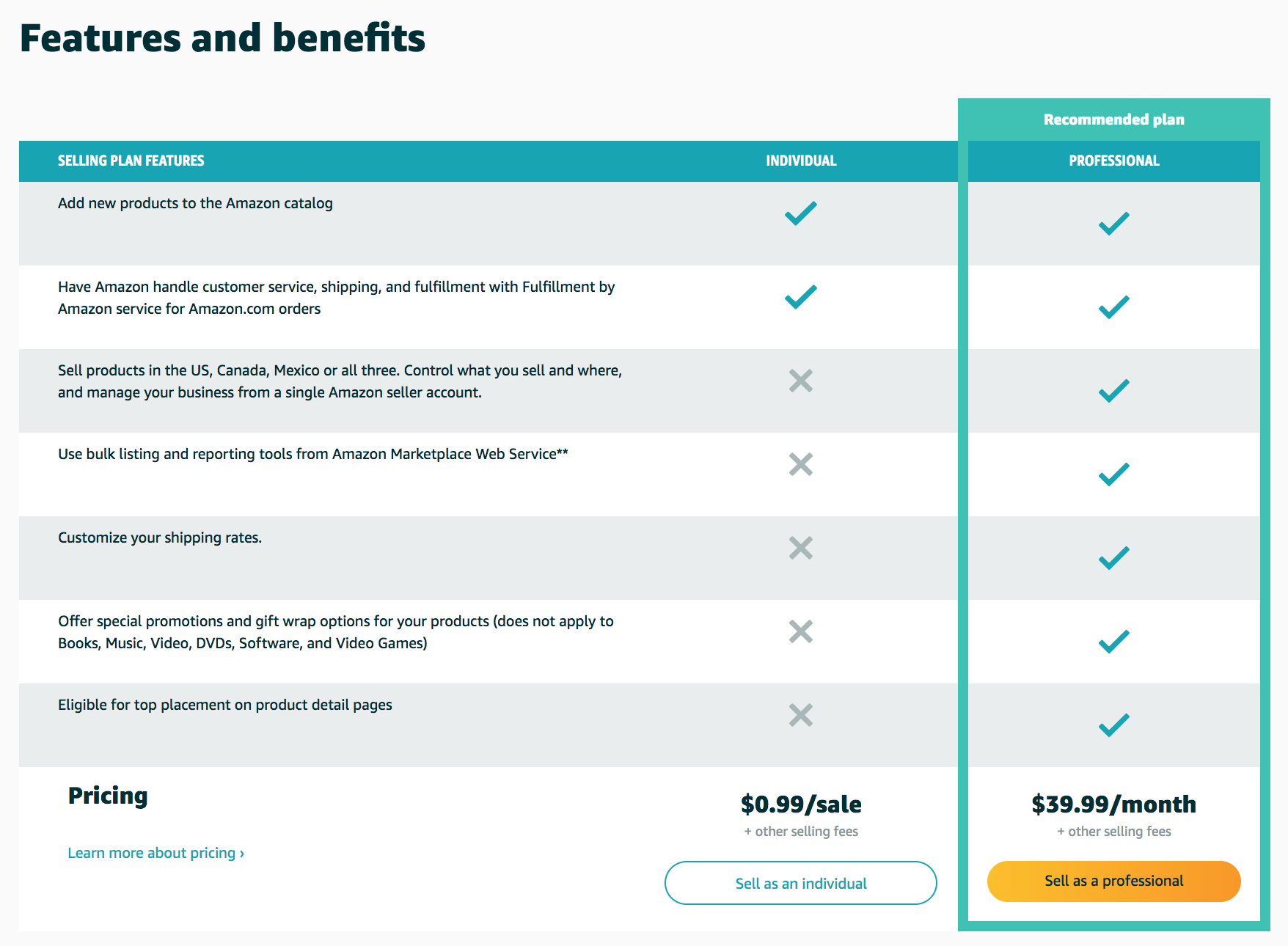 The biggest thing to note here is the professional plan charges an entry fee of $39.99 per month (extra fees include your own cost of fulfillment, referral fees on each item you sell and variable closing fees), while the individual takes a set amount out of every sale, making professional the best choice for organizations who plan to seriously sell on Amazon.
Either option gives you access to the same Seller Central portal to manage your sales and inventory, which offers some unique benefits over the system vendors are given access to including:
More control over your product content. Through Amazon's Seller Central, you'll be able to easily update your product descriptions, bullet points, imagery and technical details. This is much different from Amazon's Vendor Central experience (more on that in a minute).
Learn more about how to optimize your product listings on Amazon
Pricing control. As a seller, you'll be able to change the prices of your products whenever you like, as well as create temporary promo codes for discounted rates.
Sellers aren't forced to adhere to Amazon's logistics process for shipping items, which makes selling across various e-commerce sites more uniform.
On the other hand, the most notable downside of going with Seller Central over Vendor is your products will lack the coveted "sold by Amazon" tag in your product descriptions.
That's not to say that your products won't succeed if they don't have the trusted Amazon name behind them, only that it might make it a little bit harder for your products to stand out from your competitors if they are official Amazon vendors. Just put yourself in your customers' shoes — if you're searching for a particular product you haven't purchased before and don't have any existing brand loyalty, who would you choose: Amazon or Company X?
This, along with Amazon handling more of the direct selling to consumers, is one of the main differentiating features between Seller and Vendor Central.
Life as an Amazon Vendor
With all that being said, Vendor Central is not exactly the clear choice over Seller.
To begin with, Vendor Central is not open to everyone, unlike the seller option. To be an official Amazon vendor you have to receive an invitation from Amazon's procurement team. So, while you can't choose to become a vendor, if your products make a name for themselves in the market and can provide Amazon with the inventory they need, an invitation could be forthcoming.
As an Amazon vendor, you don't have to worry about selling directly to consumers in the same way you do as a seller. Instead, you just submit your product listings and wholesale prices to Amazon, after which Amazon sends you a purchase order to be fulfilled.
Some benefits of becoming an Amazon vendor include:
Access to all of Amazon's robust marketing tools. Vendors gain full access to Amazon Marketing Services (AMS), a tool which allows you to run sponsored ads similar to sellers, along with vendor-only headline search ads and more.
Reduced fees. Vendors pay only $39.99 per month without having to worry about extra costs associated with sellers (variable closing fees and referral fees) — a huge motivator for many organizations.
Slightly less worry. Since you're not selling directly to consumers and things are more in the hands of Amazon (in theory), management of your physical listings and advertisements should be less demanding.
Click here to learn about another Vendor perk — Amazon stores
Unfortunately, Vendor Central also comes with its share of cons.
Most notably is the Vendor Central platform itself. Since Amazon is directly selling your products, if you need to make updates to any listings (and if your products number in the hundreds or thousands), Vendor Central can be less than responsive.
While there is an item management tool slightly similar to the Seller Central one, it can be glitchy in our experience. Because of this, the best way to edit product listings is by submitting updates via Amazon's support portal and having their backend team make them.
Generally this can be fine, but anecdotally there is a wide range of experiences detailed across the internet when it comes to working with Amazon Vendor support.
Additionally, being an Amazon vendor means you have to store a large inventory to meet Amazon's demands, which can be difficult for smaller operations.
Which is Right for You?
Both of these platforms present their own pros and cons when it comes to selling on the world's largest e-commerce platform. Selling on Vendor Central may not even be available to your organization — which would make this a much simpler decision — but if you were to be offered a vendor spot or are considering one, which should you choose?
The answer largely comes down to the nature of your business.
Manufacturers, for one, are uniquely suited for the Vendor Central relationship. If your company manufactures your products and provides them to retailers, then the vendor relationship with Amazon won't be too much of a change from how you normally do business.
The price point also makes it more attractive than Seller Central if you offer a large inventory of products. And, while Vendor Central can be cumbersome to work with, you can rely on outside agencies to help you get your product listings in order before submitting them to Amazon.
If you're a smaller manufacturer or retail specialty products, then becoming an Amazon seller is likely the right choice for you. This will give you greater control over your product listings and inventory, plus you won't depend so much on Amazon to regularly purchase your products.
Along with these general guidelines, it's also essential you factor in some recent news when making your decision on whether or not to become an Amazon vendor or seller.
Projecting Forward
In early March 2019, Amazon essentially stopped sending product purchase orders to many vendors. This was then followed with a few different emails sent to various vendors explaining why this happened and what would be required of each vendor moving forward.
Some vendors were told they need to register with Amazon's Brand Registry, a tool which validates that the vendor owns the trademarks for the products they're selling, within 60 days or it's implied that they'll lose their accounts.
Others were told that they would need to move over to the Seller Central system because Amazon determined that these vendors would be more successful as a third-party seller, they said.
In short, a great deal of uncertainty was thrown into the Amazon supplier world, with many speculating that this was the beginning of the long-rumored, vendor/seller combined "One Central" coming to fruition. Others assume this is Amazon reducing the ranks of their vendors (largely due to the aforementioned lack of support and technical difficulties Vendor Central faces) to clean up their backend.
Whatever the reason may be, Amazon is being tight-lipped about what they have planned and if there is anything more than just trying to get their existing vendors registered as brand owners.
So, what does this mean for your business? If you're just looking into Amazon and have already received a vendor invitation, you might want to instead become a seller for the time being while this all plays out over the next year. If Amazon is moving over to a unified "central" system for both vendors and sellers, then this might give you a leg up on becoming familiar with the seller system.
If you do receive a vendor invitation though and your business is a good fit based on the descriptions above, you can take some comfort in knowing that Amazon would like you to join their vendor ranks even as they're removing others.
Whatever your decision may be, it's important to remember that despite the confusion playing out behind the scenes, consumers haven't noticed. Amazon's popularity is only growing year after year, and if you're not on the platform yet then you're likely missing out on potential sales.
To view the original article, click here.